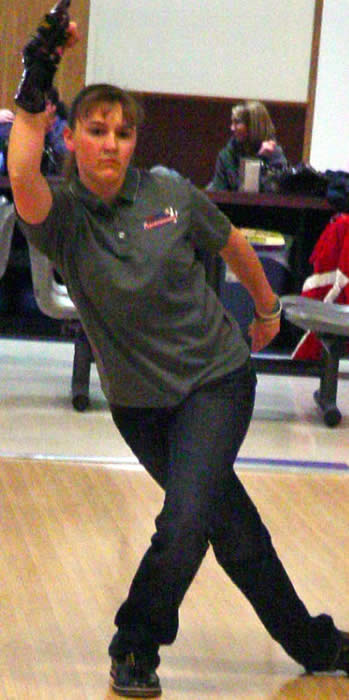 Kim Carper
Kim Carper is quietly turning some heads as she continues to reach milestones in her bowling career. This junior at Brainerd High School has finished as the top female high school bowler in the state in 2006 and now again in 2007. She was named the Outstanding Bowler of the Central Conference and anchored the All - Conference team. Last year she finished 3rd in the Pepsi sctrach division (Missing the championship by only 7 pins). She has competed in the National Junior Olympic Gold tournament the last 2 years and has already qualified to participate again this year. Currently she is #1 in points for the MJBT, which is one of the goals she has set for herself.
Kim has been in contact with or looking at Nebraska, Mankato, Robert Morris, & Wichita State University as possible colleges to attend and bowl with. If she continues to do well, especially at the Junior Gold Nationals, she will undoubtedly have many options. Her current grade point average is 3.8 and she is attending college with a special program offered by the state where she can actually get an AA degree by the time she graduates from High School.
She currently averages 197 in her youth league at Jack's house in Brainerd. Her MJBT qualifying average after 6 tournaments is 195.
She started bowling when she was 3 years old. Her older sister, Rhonda, made the nation's top ten in 1993 when she bowled a 289. Her older brother Terry is a very accomplished bowler too. He carried about a 220 average in the last adult league he bowled in. As a youth bowler he competed in a few MJBT events with a 2nd place finish as his best. Her brother and sister were involved in junior bowling so Kim had to watch for a couple of years before she could start bowling.
Kim has received great coaching throughout her bowling career. She is now a USBC Level 1 & 2 certified coach instructor herself. She was recently recognized in the USBC Youth magazine for her participation as a coach in a bowling camp last summer.
She is currently coached by Don White and he also does layout and drilling of her equipment. Don has been a major factor in her continued improvement over the last two years. He is a very positive and knowledgeable coach and will remain her coach until she goes to college.