2014 Prom Center
Clark & Carl's Double Eagle Video
SUPERIOR PERFORMANCE, MEN
Daron Hansen
video
Daron lives in Brooklyn Center, Mn with his wife Jeni and two sons, Dylan and Blake. He graduated from National American History in 2004 with a bachelor's degree in accounting, and has worked in public and private accounting since 2001. Daron started bowling at the age of five in a sanctioned youth league at Saxon Lanes and joined the audit ranks at the age of 17 in the 1990-91 bowling season. He has been a Brunswick Regional Staff Member since the 2009-10 season and is a Radical Bowling Technologies Regional Staff Member starting with the 2014-15 season. His career bowling accomplishments to date are:

St Paul Honors and Championships:
• St. Paul Open Tournament
1997 HDCP and Actual Team
2003, HDCP and Actual Team
2003, Team All Events
2007, Team All Events
2007 HDCP and Actual Team
2009 HDCP and Actual Team
2012, Team All Events
2012, HDCP and Actual Team
2006, 2013 Dodor Award
• St. Paul All-City, 1st Team : 1999, 2001, 2002, 2004
2nd Team: 1996, 1998
• King of St. Paul Bowlers: 2001, 2004
• St Paul Team Challenge: 1998, 2003

Scoring Record:
• Member of St Paul Open Championships Team All Events All Time Record – 10,732
• Member of St Paul Open Championships 2nd Place Team Events All Time Record – 3,631
• Member of MN Open Championships Actual Team Event Record – 3,662
• Member of the MN Association 5-man Team Game Record – 1,388

Tournament Championships:
• Minnesota State USBC Open Tournament
2000, HDCP Team & Actual Team
2002, Team All Events
2004, HDCP Team & Actual Team
2004, Team All Events
2005, Actual Team
2013, Minnesota Team Challenge Champion
8 Central Bowlers Alliance titles
• Minneapolis Open Tournament
1995, Actual Team
2004, Regular Team
2009, Regular & Scratch Team
2012, Regular & Scratch Team
• 2 Minneapolis Team Challenge Titles

Miscellaneous:
• Minneapolis Hall of Fame induction – 2013, Superior Performance
• Minneapolis All City Honorable Mention: 2011
• 2 Time Minneapolis Masters Champion
• 3 Manitoba Open Titles – Winnipeg, Manitoba, Canada (1998, 2005, 2006)
• 1 Morris Anderson Memorial Shootout Title – Minot, ND
• 2 time Champion of the Strike Force Bowl New Year's Day tournament
300 Games: 57 800 Series: 36 800 Series: 36
High League Average: 240
---
MERITORIOUS SERVICE
Dan Englund Sr.
Dan started bowling in 1963.
High Series: 762 High Game: 289 High Average: 209
St Paul USBC Association Contributions:
· 1992-2004, Director Greater St Paul Bowling Assoc.
· 1997-99, President Greater St Paul Bowling Assoc
· 1996-1997, Vice President Greater St Paul Bowling Assoc.
· Served on many committees over the years including: Finance; Awards and Arrangements; Membership Services; Industry Relations; Suspension Hearing, Tournament, Nominating and Steering
· Instrumental in the establishment of the Web Site for the Greater St Paul Bowling Assoc.
· 1994-2004, National Delegate
· Conducted Lane Certifications for 10 years.
· Served as Secretary/Treasurer for three leagues: Electric Industry League in 1980-1982; Harkins Straightaway League from 1998-present; and, Semi Masters League from 1999-present.
· He is a member of the St. Paul '700' Club and served as 2nd Pin in 2002, 1st Pin in 2004 and King Pin in 2006.
He was on the Team that won the C Division Championship in 1982. Dan also won the Team and Men's Singles Championship in the 1989 Greater St. Paul Mixed Tournament. He also won the A Division Championship in the 1994 700 Club Tournament.
---
PIONEER
Dick Flaherty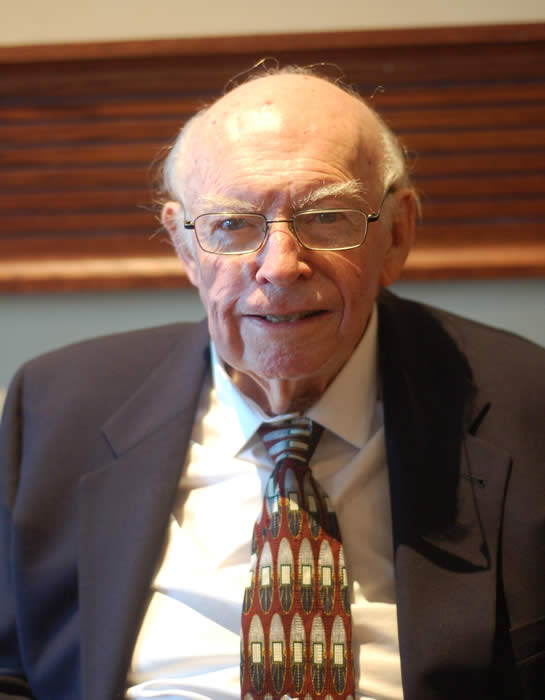 If it weren't for the dreams of some of the owners of bowling lanes, there would not be bowling as there is today and has been for the past 75 years.
PC Flaherty started the Flaherty bowling center in 1938 on Raymond and University with just 6 lanes. In 1949 he moved to Snelling and Larpenteur where he installed 12 lanes in the basement of the shopping center. In 1959 PC retired and Richard took over the operation of Flaherty's. Under Richard's great business knowledge, seeing that 12 lanes were getting too small, they opened up a new center in Arden Hills in 1963 with 24 lanes and a full kitchen and bar. The next 15 years were busy years; Richard spent time from open to close watching the business grow. In 1978, Flaherty's added 12 additional lanes to the current location to accommodate the larger number of bowlers.
Over the years, Flaherty's has built a great youth bowling program. Some of the great names that have come out of this program are: Amanda Burgoyne Vermilyea, Erik Vermilyea, Luke Voaklander, Carl Poelzer. Richard was very supportive to help the youth program grow to 2 shifts on Saturdays and a Sunday Adult/Youth league
He was instrumental in hosting many of the local and state tournaments. Some of the tournaments Flaherty's hosted are: Women's State, St Paul Senior City, Open and Mixed Team Challenge, St Paul Youth City Championship.
Richard was an avid bowler bowling leagues and tournaments. He has a 300 game to his credit. But spent more time running the business to make sure the league bowlers and the everyday bowler would have a great time while at Flaherty's.
He retired from day-to-day operations in 1997. If you visit Flahery's Arden Bowl, you can still see the ground work that Richard put in to the business today. Friendly atmosphere, great service, and bowling for young and all.
---
ALL CITY TEAMS
FIRST TEAM MEN

FIRST TEAM WOMEN

John Kreyer Jr.

Dave Langer

Robbie Lawrence

King

Dave Lutz

Sam Sylvester Jr.

Karyn Beckjorden

Amber Gehrke

Queen

Mimi Krey

Lori Munson

Janell Niles
HONORABLE MENTION

HONORABLE MENTION

Dennis Bradley
Pat Fournelle
Tony Hacker
Robert Newbauer
Rick Ryan



Dawn King
Michelle Maki
Shannen O'Ryan
Ryan Oswood
Julie Patnode


YOUTH BOYS

YOUTH GIRLS

Andrew Fidler

Nicholas Gibson

Prince

Danny Green

Tyler Huntington

Jordan Kieger

Zachary Mitchell

Makayla Ericksen

Hannah Munson

Princess

Taylor Nguyen

Lauren Pate

Lauren Scheunemann

Melissa Wucherpfennig
---
Clark & Carl Poelzers USBC Eagle Award
---
St. Paul USBC Awards of Merit

Bob Micek
High Average Adult Male - 242
John Kreyer Jr.
High Series Adult Male - 856
Janell Niles
High Average Adult Female - 216
Lori Munson
High Series Adult Female - 771
Nicholas Gibson
High Average Youth Male - 224
Brandon Johnson
High Series Youth Male - 793
Hannah Munson
High Average Youth Female - 212
Taylor Nguyen
High Series Youth Female - 837
---
Coach & Secretary of the Year
Coach Connie Honrud
Male Secretary Dave Erickson
Female Secretary Betty Herzog
---
Bowlers Recognition
Dinner Committee
Carole Edwards, Peggy Stadler
Co-Chairpersons
St Paul Hall of
Fame Committee
Mary Lou Vining-Berg—President
Steve Suhr —Vice President
Mimi Krey—Secretary
Dennis Franz—Hall of Fame Representative
Gary Winter—Hall of Fame Representative
Carole Edwards—Hall of Fame Representative

Trophies Donated By
Mike's Pro Shop

---