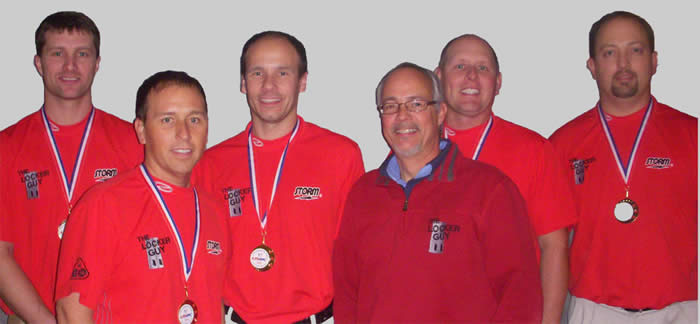 1st Place The Locker Guy(s)
Chad Nelson, Dave Langer, Dan Bock, Tom Corbett (sponsor) Dan Langer, Sam Sylvester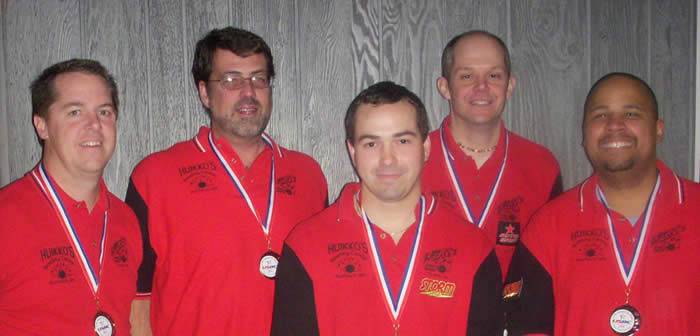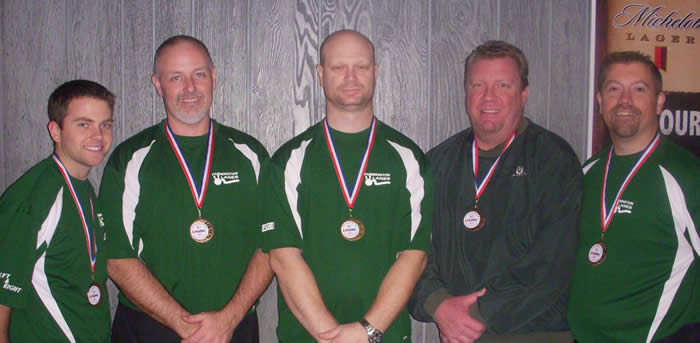 2nd Huikko's Wizards 3rd Place Farmington Lanes
| | | | |
| --- | --- | --- | --- |
| Pos # | Team Name | Team Captain | Prize $ |
| 1 | The Locker Guy I | Tom Korth | |
| 2 | Huikko's Wizards Red | Chad Huikko | |
| 3 | Farmington Lanes - Green | Daron Hansen | |
| 4 | Strike Zone - Burgandy | Dave Rasmus | |
| 5 | Huikko's Wizards Black | Chad Huikko | |
| 6 | Jensen's Supper Club | Pam Harms | |
| 7 | Linds Lakers 2 | Tom Corbett | |
| 8 | Cedarvale Lanes Linds # 1 | Brent Prentice | |
| 9 | Visionary MN 2 | Alan Loth | |
| 10 | Black OnTrack | Donathan Brown | |
| 11 | Strike Zone - Black | Dave Rasmus | |
| 12 | Linds Lakers 1 | Tom Corbett | |
First Match = Third Place vs. Second Place

Game 1
Game 2
Total

Huikko's Wizards
Red

259

206

465

194

225

419

Second Match = Winner of First Match vs. First Place

Game 1
Game 2
Total

1st Place

The Locker Guy
I

190

244

434

Winner Match 1

Huikko's Wizards
Red

194

183

377
Click Here for all Qualifying results
Click here for matchplay results
17th Annual St. Paul Open Team Challenge
The St. Paul Team Challenge was held on December 5th in Inver Grove Heights at Drkula's "32" Lanes. This tournament is all Baker Format style of bowling where the first bowler bowls the 1st and 6th frames, the second bowler bowls the 2nd and 7th frames and so forth. This year we had 32 teams in the tournament (32 lane center). The top prize of $1,000.00 for first place was not the only thing the teams were shooting for as we ran brackets during qualifying rounds. We were able to have some nice payouts to our teams. We were also able to cover our expenses and donate $300.00 to various YABA and Junior tournaments.
During qualifying competition the highest game bowled was a 299 by Jensen's Supper Club in the 5th game. Of all 32 teams, in 12 games of qualifying, the lowest game was a 141 bowled in the 7th game. The Locker Guy 1 captained by Tom Korth led the qualifying round with an average of 243.92 in 12 games. The average to cash was 214.58 and the average to advance to match play was 218.67. Also during qualifying there was a prize of $150.00 for the first team to bowl a 300. Since that feat was not accomplished, we held a drawing for the non-cashing teams. The $150.00 was given to a lucky winner picked by random draw from those who did not cash.
During Match Play The Locker Guy 1 averaged 219.93 to finish in First Place after placing 1st in Qualifying with a 230.21 average. Huikko's Wizards Red averaged 229.36 to finish 2nd and Farmington Lanes Green averaged 220.71 to finish 3rd. This was done over 8 Match games of 2 games each and winners obtained a maximum of 50 bonus points for each match. (Averages do not include bonus points). Farmington Lanes Green did bowl a 300 in the 2nd game of Match Play. Congratulations to them all.
In the stepladder finals, Huikko's Wizards Red bowled games of 259 and 206 for a total of 465 while Farmington Lanes Green bowled games of 194 and 225 for a total of 419. Huikko's Wizards Red advanced to the final championship match. In the finals, The Locker Guy 1 bowled games of 190 and 244 for a total of 434 while Huikko's Wizards Red bowled games of 194 and 183 for a total of 377 to win the 2010 St. Paul Team Challenge.
At this time we would like to congratulate, the team members of The Locker Guy 1 (captained by Tom Korth): Dan Bock, Dan Langer, David Langer, Chad Nelson and Sam Sylvester. Thank you to all the bowlers who participated. Additionally, we would also like to thank Drkula's "32", Mikes Pro Shop, On Track Pro Shop, Pearson's Candy and the Bowling Proprietors Association for their financial assistance.
The 18th Annual St. Paul Open Team Challenge is planned for December 4, 2011 at a Bowling Center TBA and will be open to the first 32-36 paid entries depending on House Size. Paid entries start in September and typically close by the first week in November.
Submitted by:
Dennis Franz and Gary Winter
Tournament Chairpersons

---