Drkula's 2015
Congratulations to Champions....
Brunswick DV8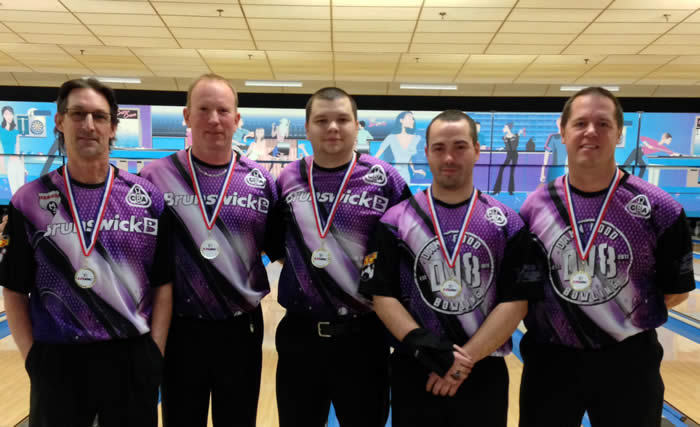 Craig Schiffler, Scott Ardtson, Ryan Burr, John Kreyer Jr, Steve Bohn
Runnerup: Locker Guy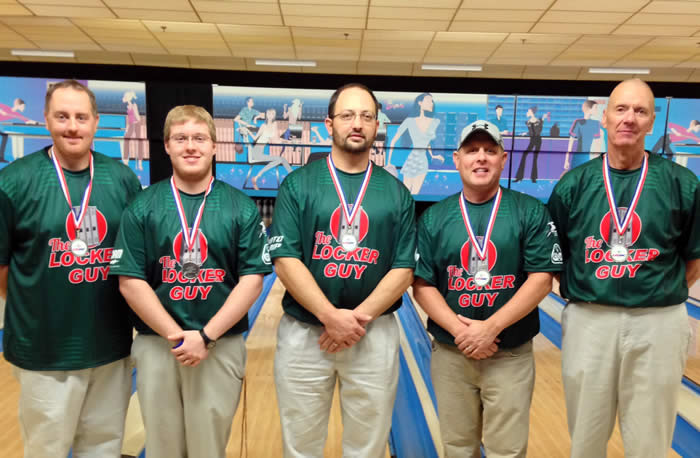 Matt Meyer, Dave Langer(Brady Stearns pictured),Sam Sylvester, Dan Langer, Tom Korth
3rd Place: Triple X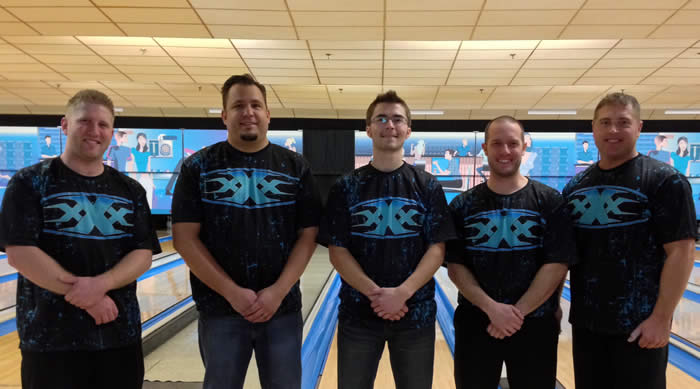 Adam Goetzke, Patrick Hanson, Dave Ryan, Mark Nickell, Jeff Broberg
21st Annual St. Paul Team Challenge
Sunday, December 7th, 2014 - Final Standings
Drkula's 32 Bowl

Pos #
Team Name
Prize $

1

Brunswick DV8 - Pink

$1,000

2

The Locker Guy I

$800

3

Triple X

$600

4

Advanced Sportswear #1

$500

5

Linds Cedarvale

$460

6

Visionary #2

$420

7

A-Z Pro Shop Black

$380

8

Brunswick DV8 - Purple

$340

9

Strike Zone Black

$320

10

Country Lanes North #2

$280

11

Advanced Sportswear #1

$240

12

Farmingrton Lanes Red

$200
First Match = Third Place vs. Second Place

Game 1
Game 2
Total
+ / -
Lane
2nd Place =

Triple X

178

218

396

-61

25

3rd Place =

Brunswick DV8 - Pink

257

200

457

61

26

Second Match = Winner of First Match vs. First Place

Game 1
Game 2
Total
+ / -
Lane
1st Place =

The Locker Guy I

222

166

388

-63

30

Winner Match 1

Brunswick DV8 - Pink

191

260

451

63

29
matchplay
| | | | | | | | | | | | | | | | | | | | |
| --- | --- | --- | --- | --- | --- | --- | --- | --- | --- | --- | --- | --- | --- | --- | --- | --- | --- | --- | --- |
| Pos # | Team Name | Qualify Total | Set #1 Total | Set #1 Bonus | Set #2 Total | Set #2 Bonus | Set #3 Total | Set #3 Bonus | Set #4 Total | Set #4 Bonus | Set #5 Total | Set #5 Bonus | Set #6 Total | Set #6 Bonus | Set #7 Total | Set #7 Bonus | PR Total | PR Bonus | GRAND TOTAL |
| 1 | The Locker Guy I | 2721 | 496 | 50 | 452 | 50 | 478 | 15 | 460 | 35 | 451 | 25 | 467 | 50 | 457 | 50 | 441 | 35 | 6733 |
| 2 | Triple X | 2716 | 412 | 0 | 459 | 50 | 479 | 35 | 393 | 35 | 505 | 50 | 479 | 35 | 454 | 50 | 429 | 15 | 6596 |
| 3 | Brunswick DV8 - Pink | 2679 | 503 | 50 | 434 | 0 | 461 | 50 | 439 | 50 | 482 | 50 | 431 | 0 | 431 | 50 | 418 | 50 | 6578 |
| 4 | Advanced Sportswear #1 | 2648 | 482 | 35 | 473 | 50 | 455 | 15 | 388 | 0 | 448 | 0 | 424 | 50 | 421 | 0 | 431 | 50 | 6370 |
| 5 | Linds Cedarvale | 2672 | 427 | 0 | 401 | 0 | 458 | 25 | 451 | 50 | 451 | 25 | 416 | 15 | 447 | 50 | 424 | 0 | 6312 |
| 6 | Visionary #2 | 2653 | 438 | 15 | 448 | 50 | 483 | 35 | 380 | 15 | 480 | 35 | 451 | 35 | 426 | 0 | 350 | 0 | 6294 |
| 7 | A-Z Pro Shop Black | 2627 | 467 | 50 | 373 | 0 | 458 | 25 | 373 | 0 | 468 | 15 | 387 | 0 | 361 | 0 | 491 | 50 | 6145 |
| 8 | Brunswick DV8 - Purple | 2631 | 428 | 0 | 354 | 0 | 446 | 0 | 420 | 15 | 412 | 0 | 427 | 15 | 419 | 0 | 386 | 0 | 5953 |
| | | | | | | | | | | | | | | | | | |
| --- | --- | --- | --- | --- | --- | --- | --- | --- | --- | --- | --- | --- | --- | --- | --- | --- | --- |
| Pos # | Team Captain | Team Name | Game 1 | Game 2 | Game 3 | Game 4 | Game 5 | Game 6 | Game 7 | Game 8 | Game 9 | Game 10 | Game 11 | Game 12 | TOTAL | + / - | Team Avg |
| 1 | Tom Korth | The Locker Guy I | 233 | 269 | 258 | 228 | 214 | 213 | 194 | 244 | 250 | 216 | 188 | 214 | 2721 | 321 | 226.75 |
| 2 | Jeff Broberg | Triple X | 246 | 246 | 258 | 208 | 278 | 216 | 192 | 206 | 217 | 236 | 224 | 189 | 2716 | 316 | 226.33 |
| 3 | Chad Huikko | Brunswick DV8 - Pink | 259 | 253 | 228 | 232 | 204 | 206 | 258 | 172 | 225 | 213 | 233 | 196 | 2679 | 279 | 223.25 |
| 4 | Carl Fietek | Linds Cedarvale | 193 | 246 | 213 | 248 | 222 | 195 | 224 | 222 | 203 | 247 | 241 | 218 | 2672 | 272 | 222.67 |
| 5 | Jeff Walther | Visionary #2 | 237 | 297 | 161 | 239 | 188 | 218 | 207 | 205 | 268 | 235 | 199 | 199 | 2653 | 253 | 221.08 |
| 6 | Jamie Clark | Advanced Sportswear #1 | 252 | 219 | 178 | 249 | 182 | 228 | 231 | 227 | 212 | 228 | 259 | 183 | 2648 | 248 | 220.67 |
| 7 | Chad Huikko | Brunswick DV8 - Purple | 223 | 190 | 222 | 236 | 222 | 226 | 198 | 278 | 217 | 223 | 184 | 212 | 2631 | 231 | 219.25 |
| 8 | Bob Newbauer | A-Z Pro Shop Black | 258 | 256 | 256 | 213 | 188 | 216 | 175 | 204 | 227 | 194 | 188 | 252 | 2627 | 227 | 218.92 |
| 9 | Dave Rasmus | Strike Zone Black | 215 | 246 | 203 | 191 | 224 | 276 | 143 | 268 | 213 | 204 | 203 | 227 | 2613 | 213 | 217.75 |
| 10 | Todd Sorensen | Country Lanes North #2 | 204 | 225 | 213 | 279 | 175 | 191 | 215 | 258 | 244 | 186 | 206 | 202 | 2598 | 198 | 216.50 |
| 11 | Jamie Clark | Advanced Sportswear #2 | 242 | 279 | 244 | 220 | 170 | 236 | 194 | 200 | 196 | 237 | 194 | 170 | 2582 | 182 | 215.17 |
| 12 | Dan Beckjorden | Farmingrton Lanes Red | 199 | 215 | 189 | 213 | 212 | 260 | 210 | 191 | 266 | 227 | 188 | 210 | 2580 | 180 | 215.00 |
| 13 | Mike Schmid | Mike's Pro Shop | 234 | 257 | 205 | 175 | 203 | 201 | 190 | 264 | 249 | 203 | 192 | 201 | 2574 | 174 | 214.50 |
| 14 | Bob Newbauer | A-Z Pro Shop Purple | 234 | 200 | 198 | 199 | 203 | 213 | 226 | 226 | 213 | 239 | 205 | 217 | 2573 | 173 | 214.42 |
| 15 | Mike Bischoff | On Track Eagan | 219 | 197 | 247 | 216 | 190 | 213 | 212 | 182 | 233 | 202 | 236 | 224 | 2571 | 171 | 214.25 |
| 16 | Nick Lason | Columbia | 178 | 237 | 256 | 224 | 203 | 210 | 235 | 189 | 257 | 153 | 208 | 212 | 2562 | 162 | 213.50 |
| 17 | Travis Wangerin | Marks Bobcat Service | 225 | 183 | 195 | 256 | 178 | 235 | 198 | 247 | 181 | 177 | 196 | 243 | 2514 | 114 | 209.50 |
| 18 | Tom Berken | Storm Blue | 213 | 173 | 203 | 215 | 207 | 228 | 229 | 204 | 227 | 190 | 225 | 198 | 2512 | 112 | 209.33 |
| 19 | Dan Beckjorden | Farmingrton Lanes Blue | 163 | 208 | 225 | 223 | 237 | 236 | 204 | 203 | 211 | 211 | 162 | 220 | 2503 | 103 | 208.58 |
| 20 | Tom Corber | Linds Lakers II | 175 | 173 | 189 | 225 | 202 | 254 | 248 | 226 | 193 | 204 | 186 | 212 | 2487 | 87 | 207.25 |
| 21 | Tom Korth | The Locker Guy II | 199 | 265 | 182 | 216 | 206 | 196 | 213 | 182 | 185 | 227 | 183 | 232 | 2486 | 86 | 207.17 |
| 22 | Ryan Savoy | Country Lanes North #1 | 183 | 235 | 206 | 194 | 249 | 180 | 255 | 256 | 201 | 173 | 181 | 171 | 2484 | 84 | 207.00 |
| 23 | Greg Schroeder | A-Z Pro Shop Green | 245 | 202 | 161 | 237 | 180 | 242 | 161 | 236 | 162 | 244 | 215 | 197 | 2482 | 82 | 206.83 |
| 24 | Tom Corber | Linds Lakers I | 231 | 229 | 202 | 207 | 225 | 195 | 165 | 227 | 197 | 205 | 183 | 206 | 2472 | 72 | 206.00 |
| 25 | Tommy Johnson | Hammer | 232 | 221 | 243 | 189 | 172 | 250 | 151 | 235 | 170 | 149 | 245 | 187 | 2444 | 44 | 203.67 |
| 26 | Tom Berken | Storm Silver | 214 | 194 | 204 | 191 | 190 | 189 | 193 | 214 | 168 | 222 | 184 | 206 | 2369 | -31 | 197.42 |
| 27 | Paul Parcaro | K & G - River Liquor | 237 | 216 | 166 | 214 | 219 | 177 | 201 | 182 | 193 | 220 | 146 | 195 | 2366 | -34 | 197.17 |
| 28 | Ron Cleveland | Central Container | 170 | 214 | 150 | 169 | 198 | 216 | 209 | 226 | 204 | 171 | 181 | 230 | 2338 | -62 | 194.83 |
| 29 | Chris Hammerschmidt | Filthy Sweetness | 183 | 141 | 194 | 186 | 206 | 172 | 188 | 267 | 180 | 181 | 189 | 233 | 2320 | -80 | 193.33 |
| 30 | Dave Rasmus | Strike Zone Purple | 164 | 178 | 173 | 200 | 176 | 200 | 210 | 203 | 192 | 170 | 215 | 208 | 2289 | -111 | 190.75 |
| 31 | Clark Poelzer | Visionary #1 | 169 | 217 | 168 | 158 | 180 | 201 | 204 | 202 | 212 | 188 | 201 | 188 | 2288 | -112 | 190.67 |
| 32 | Paul Parcaro | Hi Score North - River Liquor | 258 | 217 | 162 | 206 | 172 | 168 | 125 | 134 | 180 | 201 | 153 | 236 | 2212 | -188 | 184.33 |
21st Annual St. Paul Open Team Challenge
The St. Paul Team Challenge was held on December 7th at Drkula's 32 Bowl in Inver Grove Heights, Minnesota. This tournament is an all Baker Format style of bowling where the first bowler bowls the 1st and 6th frames, the second bowler bowls the 2nd and 7th frames and so forth. This year we had 32 teams in the tournament (32 lane center). The top prize of $1,000.00 for first place was not the only thing the teams were shooting for as we ran brackets during qualifying rounds. We were able to have some nice payouts to our teams.
During qualifying competition the highest game bowled was a 297 by the Visionary 2 team in the 2nd game of qualifying. The Locker Guy I, captained by Tom Korth led the qualifying round with an average of 226.75 for 12 games. The lowest average to cash was 215.0 and the lowest average to advance to match play was 218.92.
During Match Play, The Locker Guy 1 averaged 231.38 to again finish in First Place. Team Triple X averaged 225.63 to finish in 2nd Place after placing 2nd in Qualifying with a 226.33 average. Brunswick DV8 - Pink averaged 224.94 to finish 3rd in Match Play after placing 3rd in Qualifying with a 223.25 Average. The Match play competition was held over 8 Match sets of 2 games each where Teams obtained a maximum of 50 bonus points for each match. (Averages do not include bonus points).
In the stepladder finals, Brunswick DV8 - Pink bowled games of 257 and 200 for a total of 457 while Team Triple X bowled games of 178 and 218 for a total of 396 and a chance to bowl The Locker Guys I for the Championship. In the finals, The Locker Guys I bowled games of 222 and 166 for a total of 388 while Brunswick DV8 - Pink bowled games of 191 and 260 for a total of 451 to win the 2014 St. Paul Team Challenge.
At this time we would like to congratulate, the team members of Brunswick DV8 – Pink, (captained by Chad Huikko): Ryan Burr, John Kreyer Jr., Steve Bohn, Scott Arndtson and Craig Schiffler. Thank you to all the bowlers who participated. Additionally, we would also like to thank; Drkula's 32 Bowl, Mike's Pro Shop, the St. Paul USBC Association and the Bowling Proprietors Association for their financial assistance.
The bonus $150.00 for the first Baker style 300 game was awarded to A – Z Pro Shop, Green in a drawing as no 300 was shot during the tournament games.
The 22nd Annual St. Paul Open Team Challenge is planned for December 6th, 2015 at a Bowling Center TBA and will be open to the first 32 paid entries. Paid entries start in September and typically close by the first week in November.
Submitted by:
Wells Wescott and David Hoglund
Tournament Chairpersons